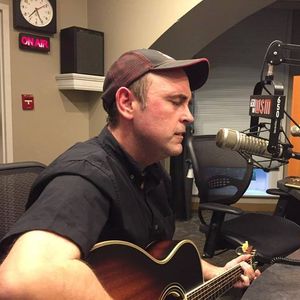 Randy Finchum - Grammy Nomination listed songwriter/ICM Songwriter Of The Year and ICM Radio Personality Of The Year nominee
Nashville born Randy Finchum is an award-winning songwriter and radio personality who has had over eighty songs recorded by various artists, among them country music great multi-platinum artist Sammy Kershaw. In the Christian Country genre, Randy has been blessed with six #1 songs as a writer and an artist, among them "Jesus Was a Rebel", which was named 95.5 WTVY's SON Country Countdown "Song Of The Year". Irish country music star Mary Duff released her CD "Changing Lanes" (ISG/Sony Music Australia) which included two of Randy's songs, including her single and video for "What Heart Can Do", which currently has over 364,000 views and her single and video for "Somewhere In The Heart Of Texas". Irish band Hurricane Highway's cut of Randy's song "I Learned From You" was Grammy nomination listed. Randy has also had "2 Steps And A Waltz Away" recorded on CMA of Texas Artist of the Year Will Bannister's critically acclaimed "Everything Burns" CD. In 2023 Mary Duff released "Crayons and a Canvas" (written by Randy and Kent Maxson) worldwide as her new single and video. Randy has also released his first solo single to Christian Country Radio, "Jesus People", written with TV/Film writers David Graham (Breaking Bad) and Kurt Eger (Girl Meets Farm). 
Randy has also appeared on The Country Network's Warrior Rounds Memorial Day Special with his song "Brotherhood" (written with Iraq war veteran Eric Frazier) and appeared in the Documentary about Nashville legend Lee Rascone "You Look Bad". 
On the radio side, Randy hosts the weekly "Music City on the Mountain" show on HLE Radio, WKLF 95.5 FM/1000 AM, WFMC Jams and God's Country Radio as well as the "New Music Showcase" segment on the syndicated radio show "The HLE Christian Country Countdown with Steve Roberson". Randy also previously hosted the "Music City Magic" segment on 106.5 WOCY as well as the "Nashville Night" radio show on the Nashville Songwriters Radio Network. Randy has also performed on the "Nashville Today" show and "The Music Row Show" on Nashville's legendary radio station 650 WSM. 
Randy has given his testimony of how God saved him in churches from Michigan to Alabama. His mission in music and in testimony is to let others know no matter where they are or what they've done, God is waiting for them to call on Him. "He is a great God, and I never knew just how great He was until He pulled me out of the darkness and into His light," says Randy. "God's got a miracle waiting on you!